I walked out of the gallery, puzzled, unsure of the world.  Like the previous time I'd felt this way, I turned to the one person who had always been there for me.  "God?"
GO AWAY.  I'M BUSY.
"This is important."
BUGGER OFF.
"No, really."
FINE, BUT I'M RANDOMLY CHOOSING WHICH OF MY MORE VOCAL FOLLOWERS GETS CAUGHT WITH HIS PANTS DOWN.  HYPOCRISY IS A SWEET, SWEET GLAZE ON TOP OF LIFE.  OH, LOOK: ANOTHER REPUBLICAN.
"Yeah, but both sides–"
AND PAUL MORRISON.
"–yep, that'll do it."
NOW, GET ON WITH IT.  I DON'T HAVE ALL DAY, YOU KNOW.
"But, you're God.  You can make the day last forever."
NOT WEDNESDAYS.  I HATE WEDNESDAYS.
"Okay.  Hey, I'm doing my best to figure out life on my own, but there are some things that I just can't work out, no matter how much thought I put into them."
LIKE PEANUT BUTTER CUPS?  I STILL CAN'T FIGURE OUT HOW THEY WRAP DELICIOUS CHOCOLATE AROUND SMOOTH PEANUT BUTTER.  IT'S SINFUL.
"No, not candy.  More like Thomas Kinkade."
OH.
"Maybe he's a good man, possibly even a saint, but his paintings, his life's work, his art, they… well, they kill a little piece of my soul each time I see one.  I look into the shiny lights and instead of seeing a reassuring source of warmth, I feel all of my energy being sucked into a bright white blight, threatening to take the world with it.  I don't get him."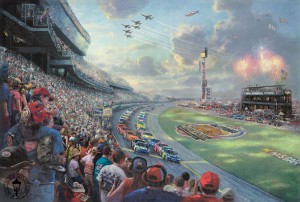 HE'S SATAN.
"Really?"
YES.  FOOLED ME, TOO.  I ALMOST PUT ONE OF HIS COTTAGE PAINTINGS ON LAYAWAY UNTIL I TOOK A CLOSER LOOK AND SAW
I SHALL DEVOUR THEE AND MAKE YON CHILDREN WAIL AND CRY AND BLEED AND TAKE MATH TESTS AND RAKE LEAVES
HIDDEN IN THE PAINT STROKES.
"That's horrible!"
I KNOW.  MATH TESTS.  MAKES ME SHUDDER.
"But so many people think he paints in glory of you!"
LOTS OF PEOPLE TUNE INTO THE 700 CLUB, TOO.  THE WORLD AIN'T A BRIGHT PLACE.  IF PEOPLE WANT MUNDANE, IF THEY CHOOSE TO CELEBRATE MEDIOCRITY AND TO WORSHIP PAINT-BY-NUMBER , KINKADE IS THEIR GOLDEN CALF.
"But, but, can't you do something?"
I CAN PUT MENTOS IN A DIET PEPSI BOTTLE.  IT'S AWESOME.
"No, about Kinkade!  Beelzebub!  The Lord of the Flies!"
DO?  I'VE DONE IT.  I PURCHASED STOCK IN HIS COMPANY.  WITH ALL OF THOSE POOR CHINESE KIDS HE USES IN HIS FACTORIES OVER THERE TO 'TOUCH UP' HIS PRINTS, THEY'RE CHURNING OUT MILLIONS EACH YEAR.  MY 401K IS MAXED OUT, AND I HAVE MORE MONEY THAN, WELL… ME.
"That's–really?"
YEP.
"You're still a bastard."
YEP.
"But now you're buying lunch."
AMEN.